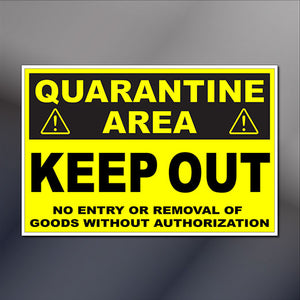 Large Quarantine Area Keep Out Door Sign in Aluminum, Decal, or Magnetic Sign
Quarantine Area Keep Out - No Entry or Removal Without Authorization Signs for Covid-19 Pandemic to be utilized by Healthcare Facilities, Schools, & Businesses
Danger Keep Out Quarantine Signs for Healthcare, nursing homes, universities/ schools, business, and private homes or other facilities.
This large highly visible sign is intended to boldly announce to others that a room, home, or building is under quarantine or self-quarantine.

18x12" Aluminum, Plastic, Sticker, or Magnetic Sign
The aluminum and plastic signs can be mounted using the supplied double-stick tape.
---
Customers Also Bought
---